Hiro Club News Octorber 2021 (vol.316)
HIRO CLUB NEWS is published monthly and provides essential and entertaining information about life in Hiroshima City.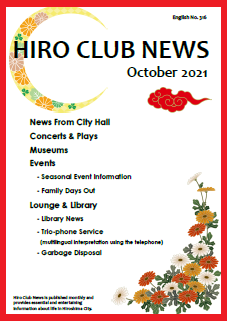 FULL PAGE DOWNLOAD
[PDF,3767KB,27pages]
CITY OFFICE NOTICES
Applications open for entering municipal
kindergartens in April 2022
Refunds for preschool education and childcare
Changes to Elementary School Enrollment Allowed
Hiroshima Prefecture minimum wage (changed)
Help Cut Down on Food Loss by Adopting the FIFO
Method


 Vaccines for COVID-19
Know Your Local Hazards Maps!
 Prefectural housing available
 Payment deadline: Residential Taxes
 Extended Financial Support for Children's Medical
 Expenses
 International Festival is Open!